Home
Category: Blog
Published on Tuesday, 07 August 2012 20:36
Written by Lars
Hits: 5310
The team is proud to announce the release of Snowlinux 3 "Crystal" RC.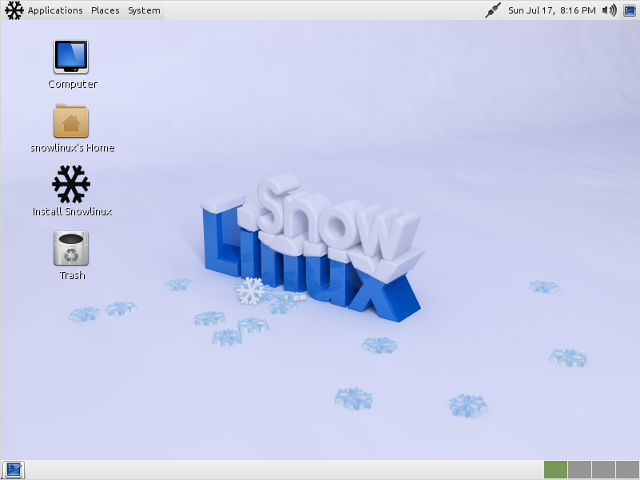 Snowlinux 3 Crystal
Due drastic changes with Gnome 3 and Unity, Snowlinux is keeping Gnome 2. The new LTS (long term support) Linux kernel was integrated. Snowlinux uses DuckDuckgo as default search engine. The Snowlinux-Metal-Theme was made GTK 3 compatible. Dropbox integration for nautilus and the possibility for sharing files with nautilus was done. Also Firefox, Thunderbird and LibreOffice are available in this release. Also firmware-linux-nonfree was integrated to support more hardware out-of-the-box.

New features:
DuckDuckGo
Snowlinux-Metal-Theme (GTK 3 support)
Snowlinux Full HD backgrounds
Black terminal background
Linux-Firmware-Nonfree
Nautilus-Dropbox
Nautilus-Share
Linux kernel 3.2
Firefox 14.1
Thunderbird 14
LibreOffice 3.4.6
Updated software
Improved speed and response
System improvements
For a complete overview of the new features, visit: "What's new in Snowlinux 3".
Make sure to read the "Release Notes" to be aware of important info or known issues related to this release.
Upstream information:
Snowlinux 3 "Crystal" is based upon Debian GNU/Linux 6.0 "Squeeze" Stable. It comes with the long-term-support (LTS) Linux kernel 3.2.0 and Gnome 2.32 which were made available upstream. It has installed Firefox 14.1, Thunderbird 14, Libreoffice 4.3.4, Rhythmbox and Shotwell by default.
Life cycle:
Snowlinux 3 "Crystal" is supported until Februar 2014.
Compatibility with Debian:
Snowlinux 3 "Crystal" is 100 % compatible with Debian's Repository.
System requirements:
x86-CPU
256 MB memory
2 GB free disk space
Graphics card capable of 800×600 resolution
CD-ROM drive or USB port
Md5sum:
32-bit: 80fbd71d3fcb4e61a81f6d1f1262675b
64-bit: 03c3b23d877dbd46b9960dac31d1bdb9
Download:
We are looking forward to your comment on this RC. Thank you for using Snowlinux and enjoy this new RC.