Snowlinux 2 "Ice" LXDE RC released!
The team is proud to announce the release of Snowlinux 2 "Ice" LXDE.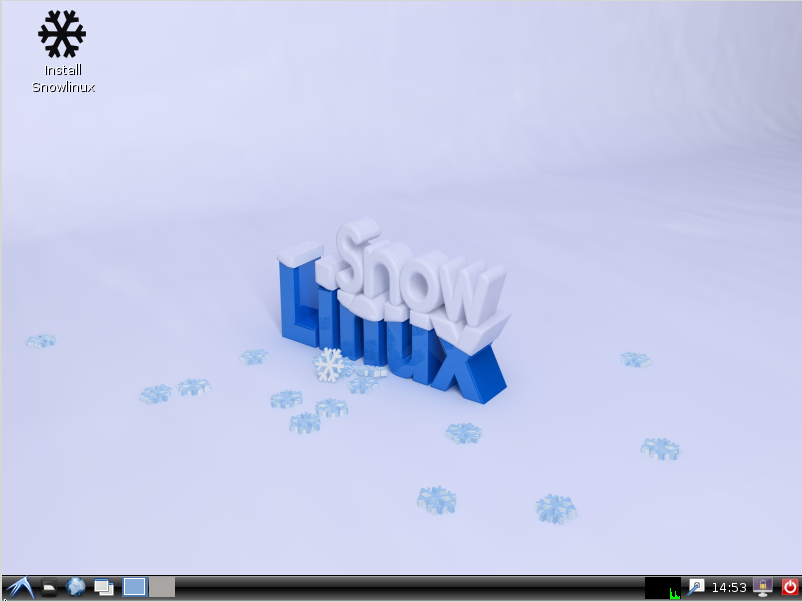 Snowlinux 2 LXDE

New features:
Snowlinux-Metal-Theme
Snowlinux-Metal-Icons
Improved installer (keyboard variants, UUID in fstab)
Printkey taking screenshots
Firewall
Apturl
Terminal colors
OpenJDK 6 Java
Updated software and packages
Better software selection
Improved speed and response
New look and feel
System improvements
System requirements:
x86-CPU
256 MB memory
2 GB free disk space
Graphics card capable of 800×600 resolution
CD-ROM drive or USB port
Known bugs:
Isolinux medium name wrong (32-bit)
Md5sum:
32-bit: ee2faa0096c210fda6bc6883b8eb7dcf
64-bit: fe7e5c918cdbacc3185944ad1956eaca
Download:
We are looking forward to your comment on this RC. Thank you for using Snowlinux and enjoy this new release.
Poll: Snowlinux editions
As we're planning for Snowlinux 2 and upcoming releases, we would like to know more about our user base. Here are some questions. Feel free to answer and thank you for taking part in this survey.
What are you using on your main computer?
Gnome (Main) 32-bit - 64.2%
Gnome (Main) 64-bit - 5.7%
Ubuntu-based 32-bit - 4.4%
Ubuntu-based 64-bit - 6.9%
What Snowlinux edition do you currently use?

Gnome (Main) 32-bit - 36.4%
Gnome (Main) 64-bit - 13.6%
Ubuntu-based 64-bit - 4.5%
Which releases are you using at the moment?
Snowlinux 1 Winter - 21.4%
What is your favourite desktop environment?