Who's Online
We have 47 guests and no members online
Blog |
18 October 2013
Written by Lars
Hits: 407
Why donate money? Snowlinux is free of cost and doesn't generate income. It is funded by advertising, sponsoring and donations.
What is the money used for? The money is used to finance all costs of the distribution, to pay the servers, advertise on other websites and all other which is needed to distribute Snowlinux.
How much money should I donate? Some people donate a couple of hundreds dollars the other only a single.
The long-term plan regarding the funding of Snowlinux? We want to be able to do this as a full time job to gain the most perfect distribution and ensure that all editions of Snowlinux can be distributed.
Blog |
14 October 2013
Written by Lars
Hits: 3629
The team is proud to announce the release of Snowlinux 5 "Flurry" Beta!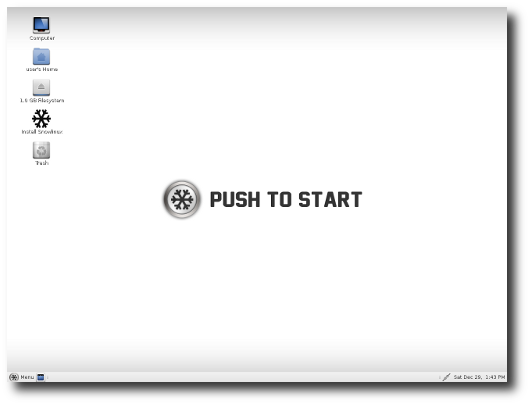 Snowlinux 5 "Flurry"

This new beta releases mostly improves the system itself. We're now using GPG signed repositories and the ISOs were build by a build server. Snowlinux 5 "Flurry" is based upon Debian GNU/Linux 7.0 "Wheezy" and uses Linux 3.10. It comes along the MATE 1.6 desktop.

New features:
Debian GNU/Linux Wheezy 7.0
Linux 3.10
MATE 1.6
GPG
SnowMount
Firefox 24
Thunderbird 24
Snowlinux HD backgrounds
Updated software
Improved speed and response
System improvements
For a complete overview of the new features, visit: "What's new in Snowlinux 5 "Flurry"".
Make sure to read the "Release Notes" to be aware of important info or known issues related to this release.
Upstream information:
Snowlinux 5 "Flurry" is based upon Debian GNU/Linux 7.0 "Wheezy" Stable. It comes along with the Linux kernel 3.10 and MATE 1.6. It has installed Firefox 24, Thunderbird 24, Libreoffice, Rhythmbox and Shotwell by default.
Life cycle:
Snowlinux 5 "Flurry" is supported until May 2016.
Compatibility with Debian:
Snowlinux 5 "Flurry" is 100 % compatible with Debian's Repository.
System requirements:
x86-CPU
256 MB memory
2 GB free disk space
Graphics card capable of 800×600 resolution
CD-ROM drive or USB port
Md5sum:
32-bit: bd01e8d4d90786d8b66dcca394fe92ce
64-bit: 1254ed694487604ce9de699fe5cab77b
Download:
We are looking forward to your comment on this version. Thank you for using Snowlinux and enjoy this new version.
Blog |
12 June 2013
Written by Lars
Hits: 1894
Today we got a new repository with signed GPG packages.
As the new repository is online, you'll be asked for a keyring when you update your system.
To solve this issue, you should install snowlinux-keyring.
You can install it by typing:
sudo apt-get update
sudo apt-get install snowlinux-keyring