Snowlinux 4 "Glacier" RC released!
The team is proud to announce the release of Snowlinux 4 "Glacier".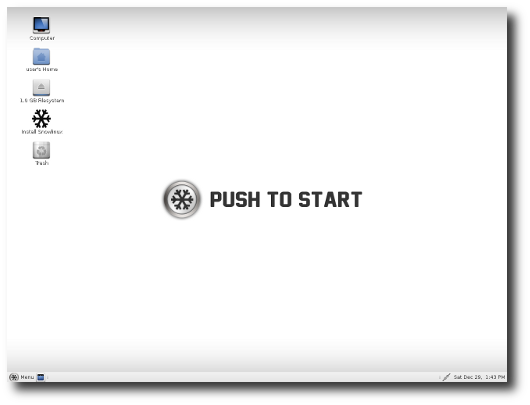 Snowlinux 4 "Glacier"

Snowlinux 4 "Glacier" is based upon Debian GNU/Linux 7.0 "Wheezy" and uses Linux 3.5. MATE 1.4 is the default desktop environment and LightDM as new default login manager to replace GDM 3. It was built an own greeter for LightDM. There were introduced much new features like snowMenu, the Snowlinux menu and snowMount, the Snowlinux mount tool for drives. The Snowlinux-Metal-Theme was colored blue and the icon set was updated with the latest Faience icons. Snowlinux uses Pidgin now as default IM client. This release comes along Firefox 17 and Thunderbird 17, LibreOffice, Rhythmbox and Shotwell.

New features:
Debian GNU/Linux Wheezy 7.0
Linux 3.5
MATE 1.4
LightDM
Snowlinux LightDM greeter
Snowlinux Plymouth theme
Improved Snowlinux-Metal-Theme
Improved Snowlinux-Metal-Icons
SnowMenu
SnowMount
Firefox 17
Thunderbird 17
Snowlinux HD backgrounds
Updated software
Improved speed and response
System improvements
For a complete overview of the new features, visit: "What's new in Snowlinux 4 "Glacier"".
Make sure to read the "Release Notes" to be aware of important info or known issues related to this release.
Upstream information:
Snowlinux 4 "Glacier" is based upon Debian GNU/Linux 7.0 "Wheezy" Stable. It comes along with the Linux kernel 3.5 and MATE 1.4. It has installed Firefox 17, Thunderbird 17, Libreoffice, Rhythmbox and Shotwell by default.
Life cycle:
Snowlinux 4 "Glacier" is supported until February 2016.
Compatibility with Debian:
Snowlinux 4 "Glacier" is 100 % compatible with Debian's Repository.
System requirements:
x86-CPU
256 MB memory
2 GB free disk space
Graphics card capable of 800×600 resolution
CD-ROM drive or USB port
Md5sum:
32-bit: 66f714ca1419222830ce9fb3b397662e
64-bit: 1396122025ba272d17b4acc75fd57d03
Download:
We are looking forward to your comment on this RC. Thank you for using Snowlinux and enjoy this new RC.