E17 alpha, which was released last week, is in our official Snowlinux repository now. Please update your system. You can download Snowlinux 3.1 E17 here. E17 on its way to become a fast and stable desktop environment.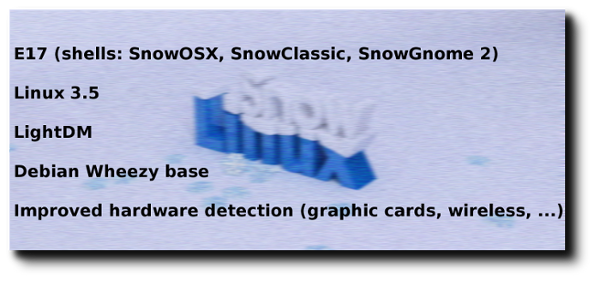 The team is proud to announce the release of Snowlinux 3 "White".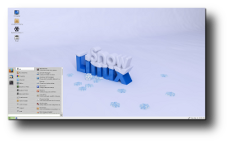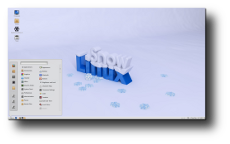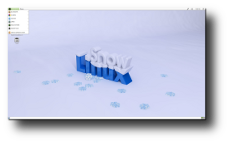 MATE edition                      Cinnamon edition                           GNOME edition

Snowlinux 3 'White' is based upon Ubuntu 12.10. The default desktop environment is MATE 1.4. Also Cinnamon 1.6 is available besides the GNOME 3.6 Fallback mode. Our own menu, called snowMenu, and a mount tool, called snowMount, have been added. Nemo 1.0.9, a fork of Nautilus 3.4, is used as the default file manager. The release uses Linux 3.5 and it comes along with Firefox, Thunderbird, LibreOffice, Shotwell and Rhythmbox.
New features:
Linux kernel 3.5
Cinnamon-Themes
Snowlinux-Metal-Theme
Snowlinux-Metal-Icons
universe and multiverse repository
Terminal colors
Open as administrator
Open in terminal
Better software selection
Improved speed and response
New look and feel
System improvements
For a complete overview and to see screenshots of the new features, visit: "What's new in Snowlinux 3 "White"".
Upstream information:
Snowlinux 3 "White" is based upon Ubuntu 12.10 "Quantal Quetzal". It comes along with the Linux kernel 3.6 which were made available upstream and Cinnamon 1.6. It has installed firefox, thunderbird and shotwell by default.
Life cycle:
Snowlinux 3 "White" is supported until April 2014.
Compatibility with Ubuntu:
Snowlinux 3 "White" is 100 % compatible with Ubuntu's Repository.
System requirements:
• x86-CPU
• 512 MB memory
• 4 GB free disk space
• Graphics card capable of 800×600 resolution
• CD-ROM drive or USB port

Md5sum:
MATE

32-bit: 2e6b16ce82d0eb181252ae4f28e27c27
64-bit: a5f0fb615d69e26906e314637074e599
Cinnamon & Gnome
32-bit: 9e7cbd71252c07706193c7c685033125

64-bit: 28b2bf941d29a2ded74451e3e3d4b695

Download:
MATE
Cinnamon & Gnome
We are looking forward to your comment on this release. Thank you for using Snowlinux and enjoy this new release.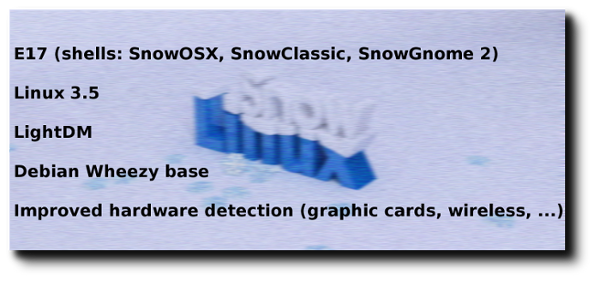 Due to a release critical error we didn't noticed and which wasn't reported until the release we had to re-spin the ISOs. This bug doesn't affect installed systems.
The base system was updated and the E17 desktop environment was updated.
New features
- Release critical bug solved
- Many bugs solved
- New E17 build (78753)
- updated Debian base system (new updates, bug fixes, security fixes etc.)
- Debian security repository points to wheezy instead of testing (bug)
MD5SUM
32-bit: 7a2cfa7c70f155130758cf7b62cf6337
64-bit: 47c683f50226c21abb318095d497b764
You can download the ISOs here:
MIRROR 1
MIRROR 2